Provide resources and skills to researchers-finders 
to promote the success of their innovative project in oncological medicine
From bench to bedside
3 keys to success in converting promising scientific ideas into tangible medical solutions.
A rigorous selection
To boost the odds of success, the Foundation selects projects according to rigorous criteria (14 points): Does it fulfil an unmet medical need? Is it truly innovative? Does it withstand the critical scrutiny of independent experts?
Entrepreneurial guidance
In order to help them to succeed, the Foundation funds researchers-finders, supports them through its scientific specialist network and provides them with close guidance in management and entrepreneurial excellence.
Access to leading networks
The Foundation has put together networks of experts in the fields of science, regulations and finance, as well as patents, production and business administration. We call upon the right profiles for the needs of each project.
The Fournier-Majoie Foundation steps in at a crucial point in development
We help project leaders to clear the key stages of research and development at a lower cost in order to boost their odds of success and be able to establish whether their projects are worth pursuing at an earlier stage.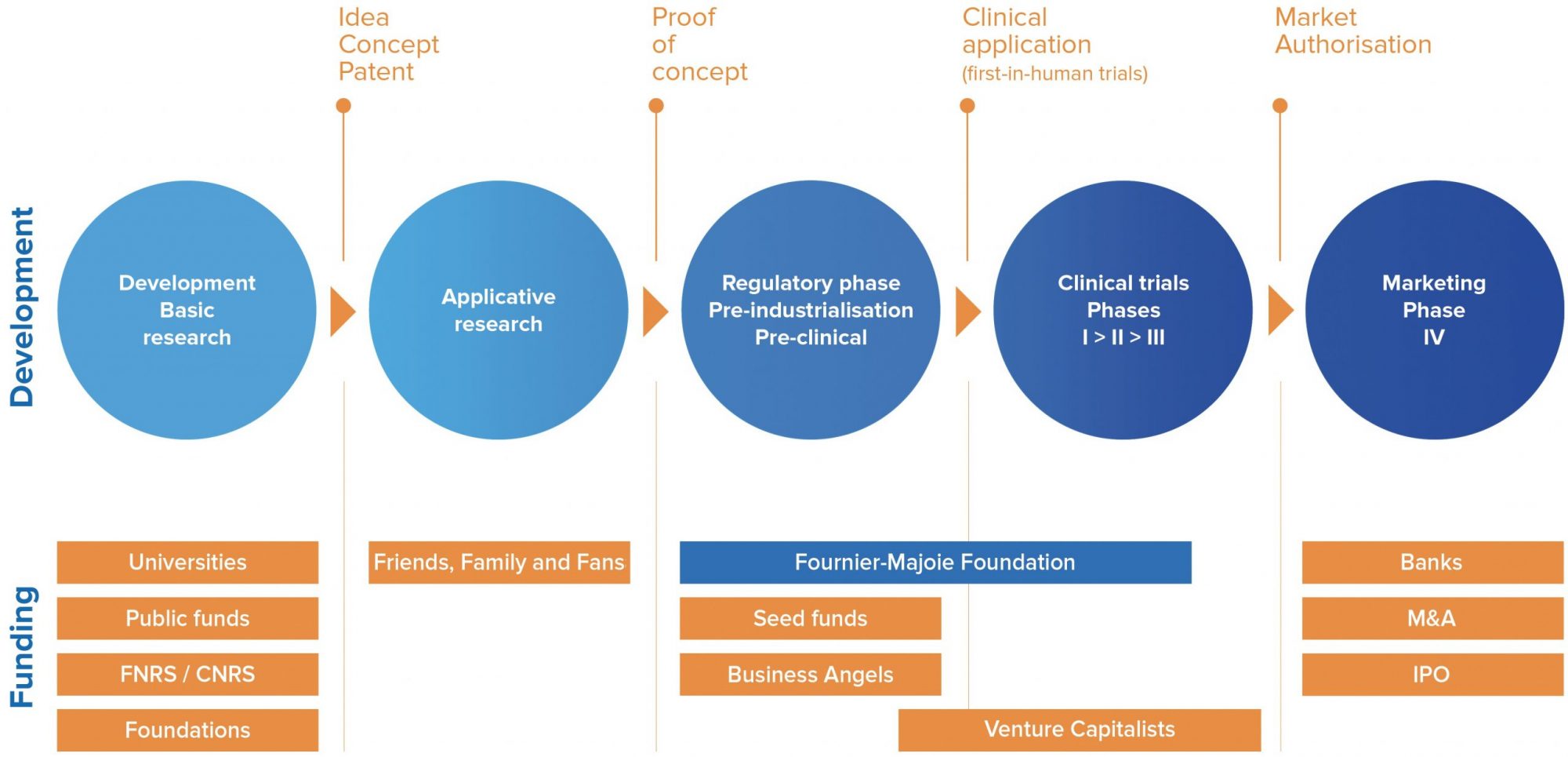 €1 = €8
Your support has a multiplier effect
Public funds
By submitting proof of private financial support (such as the Foundation's support), investment funds —usually regional— can join the project. For each €100 in private support, public funds can contribute up to an extra €133.
Additional private funds
To supplement its sources of funding, the Foundation can call upon private investor networks and venture capital investment funds to enable the organisation to expand its activities in the short and medium term.
Tax deductions
Donations greater than €40 to Fonds des Amis de la Fondation Fournier-Majoie, an organisation under the aegis of the King Baudouin Foundation, are tax-deductible for an amount equal to 45% of the donations (as Belgian resident). This means a €1,000 donation will only cost you €550 in real terms.
The virtuous circle where those helped become helpers
The Foundation has decided to intervene as a Venture Philanthropist in the fight against cancer. When a supported project generates income, part of this revenue goes back to the Foundation to be used for other projects. Projects graduate from receiving assistance to providing it, kick-starting a virtuous cycle. By joining the Circle of Venture Philanthropists, you will be supporting far more than just one project. Your donations will have a sustained effect and their impact will be considerably magnified.
Help Arthur's dad and support the "Cloak of invisibility" project
Arthur's dad is suffering from lung cancer. A Harry Potter fan, Arthur (7 years old) would be the happiest of little boys if his daddy could play with him for a long time.
One hope lies in targeted therapies, 'missiles' called ADCs, which selectively deliver chemotherapeutic agents directly to cancer cells, sparing healthy cells. The problem is that these missiles, carried by the blood, can be eliminated by the liver, diminishing the strike force and causing unwanted toxicity.
The cloak of invisibility developed by Mablink Bioscience hides the missiles from the liver's filtering cells and allows them to continue their hunt for cancer cells. This new generation of ADCs would be up to 10x more effective than conventional ADCs!
To strengthen the support for this project, the Foundation needs to find € 880,000.

An example of "returning the favour"
Aware of the opportunities he had been offered to become an entrepreneur and to open the doors to success, our founder, Bernard Majoie, was keen to "return the favour". This philosophy remains one of the driving forces behind our action today. Indeed, each laureate who benefits from the Foundation's support undertakes to help future researchers if their initiative is successful.
This was the case in 2021 for one of our laureates, Biogazelle. This Clinical Research Organisation has developed cutting-edge services for the analysis of genes and their dynamics. At the end of 2021, Biogazelle was bought by the Canadian company CellCarta and shared part of the proceeds of the sale with the Foundation to support new cancer research projects. This creates a virtuous circle in which your donation can support several successive projects.
Our partners
To support our project leaders and to reinforce the impact of the Foundation's actions, our partners provide support in various ways.
Corporate & Foundations
Sharing our values and our mission to undertake against cancer, they support us through financial donations or donations in kind
Financial co-support
Together we provide financial support to project developers
Scientific
They help us identify promising projects or support us on scientific issues