How Philanthropreneurs can take action
to make a difference
against cancer
100%

of your donations straight to scientific projects
You are an entrepreneur or a company
Here's how you can make an impact against cancer
You are a Philanthropreneur
Here's how you can help us making an impact against cancer
What makes us different
The 100% model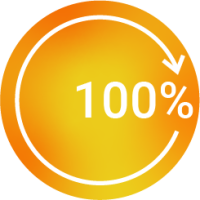 100% of your donations go directly to the projects:
This is our commitment.
To ensure maximum impact of your generosity, all your donations are directly and exclusively allocated to research projects rigorously selected by the Foundation and validated by our scientific experts.
All the Foundation's operating and communication costs are covered by a separate endowment from our founder, Dr. Bernard Majoie. This way, you know exactly what your generosity is dedicated to.
Entrepreneurial DNA

Our DNA is close to that of entrepreneurs
Our entrepreneurial spirit is clearly reflected in our vision
" Empowering entrepreneurs to crush cancer", and in a series of characteristics
that business leaders will immediately identify with:
A strong ambition
aiming to provide new therapeutic solutions
(Measured) risk-taking
by committing our capital after a rigorous selection of projects
A search for impact
by helping to save lives and creating jobs
(137 jobs created within the teams of our laureates)