Provide resources and skills to researchers-finders 
to promote the success of their innovative project in oncological medicine
From bench to bedside
3 keys to success in converting promising scientific ideas into tangible medical solutions.
A rigorous selection
To boost the odds of success, the Foundation selects projects according to rigorous criteria (14 points): Does it fulfil an unmet medical need? Is it truly innovative? Does it withstand the critical scrutiny of independent experts?
Entrepreneurial guidance
In order to help them to succeed, the Foundation funds researchers-finders, supports them through its scientific specialist network and provides them with close guidance in management and entrepreneurial excellence.
Access to leading networks
The Foundation has put together networks of experts in the fields of science, regulations and finance, as well as patents, production and start-up administration. We call upon the right profiles for the needs of each project.
The Fournier-Majoie Foundation steps in at a crucial point in development
We help project leaders to clear the key stages of research and development at a lower cost in order to boost their odds of success and be able to establish whether their projects are worth pursuing at an earlier stage.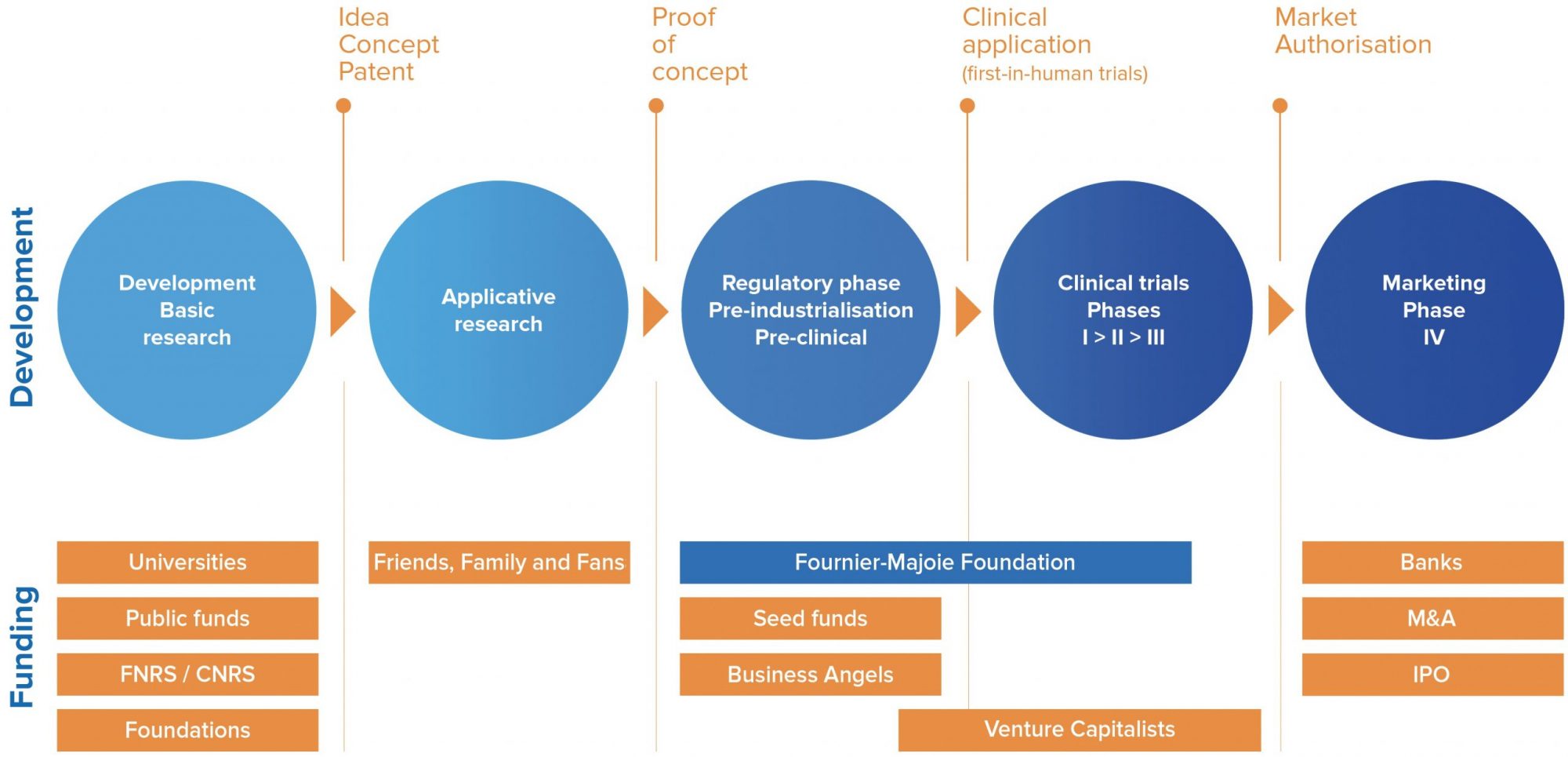 €1 = €4 to €8
Your support has a multiplier effect
Public funds
By submitting proof of private financial support (such as the Foundation's support), investment funds —usually regional— can join the project. For each €100 in private support, public funds can contribute up to an extra €133.
Additional private funds
To supplement its sources of funding, the Foundation can call upon private investor networks and venture capital investment funds to enable the organisation to expand its activities in the short and medium term.
Tax deductions
Donations greater than €40 to Fonds des Amis de la Fondation Fournier-Majoie, an organisation under the aegis of the King Baudouin Foundation, are tax-deductible for an amount equal to 60% of the donations (as Belgian resident). This means a €1,000 donation will only cost you €400 in real terms.
A different philanthropic approach
The Foundation has decided to intervene as a Venture Philanthropist in the fight against cancer. When a supported project generates income, part of this revenue goes back to the Foundation to be used for other projects. Projects graduate from receiving assistance to providing it, kick-starting a virtuous cycle. By joining the Circle of Venture Philanthropists, you will be supporting far more than just one project. Your donations will have a sustained effect and their impact will be considerably magnified.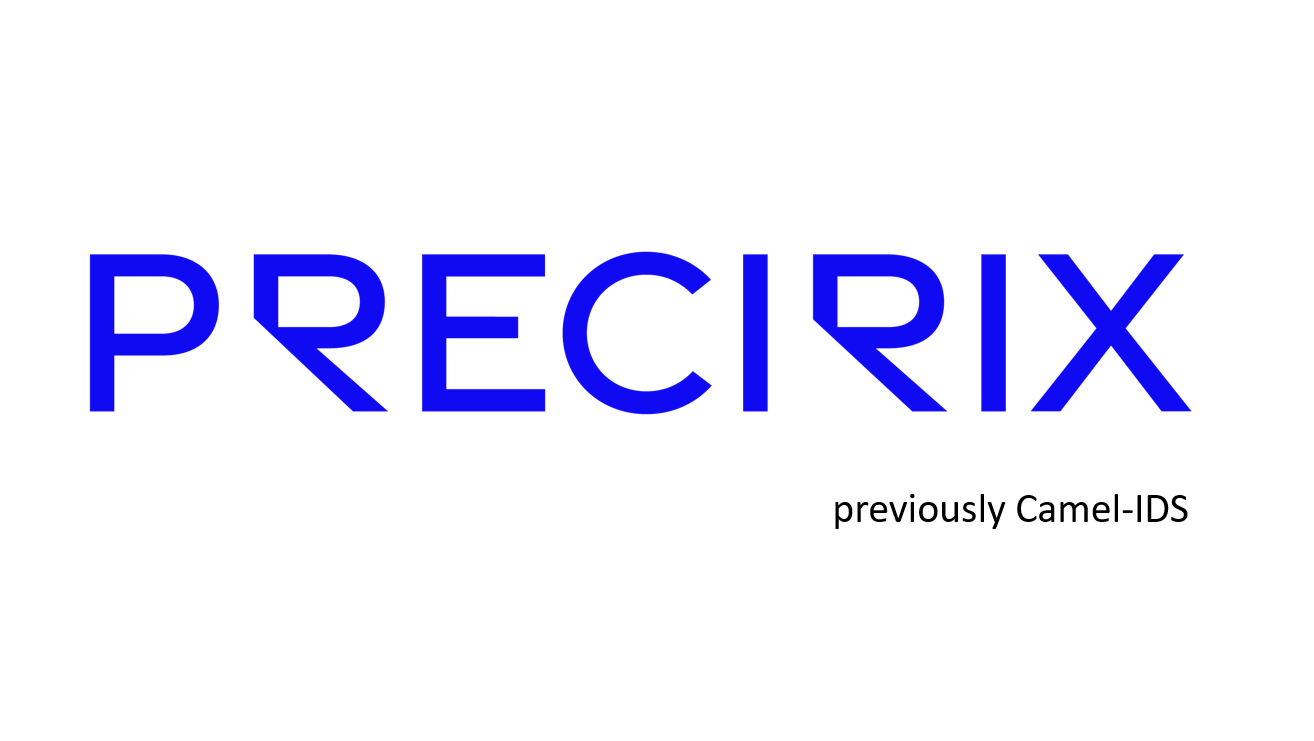 A success story
A breakthrough in the fight against HER2+ breast cancer with brain metastases.
Precirix (previously Camel-IDS), a satellite of the Vrije Universiteit Brussel set up in 2014, combines a radioactive element with llama nanobodies. After entering tumour cells, the nanobodies detach from the radioactive product, which irradiates the core of the tumour and kills the targeted cells with exquisite precision. The VUB, the Foundation and three Belgian business angels enabled Prof. Tony Lahoutte and Precirix to bring a Phase I trial of its flagship product, CAM-H2, to a successful conclusion in 2017.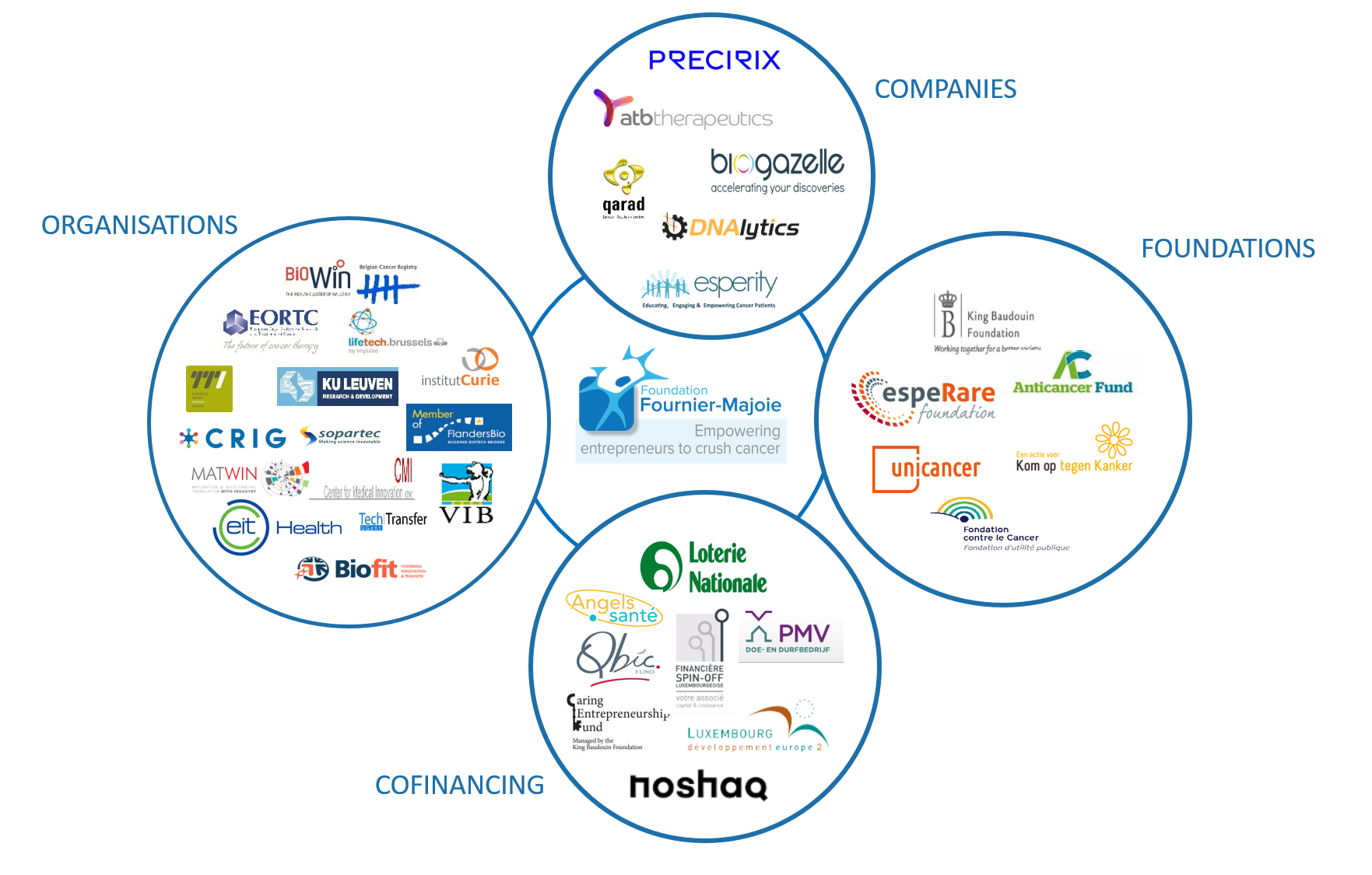 Our partners
As a donor, you are our leading partner. We are grateful for your support.
In addition to that, institutional partners play an equally important role in an increasingly complex scientific and regulatory environment. These partners are often universities, service providers (clinical research organisations, biostatistics services, biobanks, intellectual property and regulatory affairs agencies and consultants, etc.), public/private investors, diagnostic companies and other foundations that share our goal of beating cancer.