Best Wishes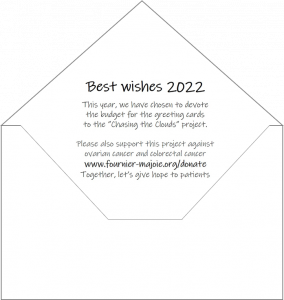 As indicated in the lightly filled envelope you received, we have chosen to spend the budget for greeting cards on the "Chasing the Clouds" project.
The unusual shape of our greetings goes hand in hand with a special year. We wanted to share the highlights of 2021 with you and thank you for your trust.
This year has brought us its share of joy and sorrow.
On December 3rd, our founder, Bernard Majoie, left this world at the age of 82. He fought a long battle with a pernicious cancer. Our sadness strengthens us in our determination to carry on with the mission he held so dear: "Empowering entrepreneurs to crush cancer". He has always closely followed the activities of the Foundation and was enthusiastic about the progress of the current projects, but also about the 2 new and very promising projects against ovarian cancer and colorectal cancer in particular.
While the pandemic has given us little respite, we have been fortunate to meet loyal Venture Philanthropists in person. We were looking forward to this moment! Whether it was at a tennis tournament, the "Banksy" night or our "Coup d'Eclat" gala dinner, we got to see them again, talk to them and meet all the new Venture Philanthropists. Your trust and enthusiasm are with us every day and are our driving force to continue our mission.
In this year 2021, more than ever, you have made a difference.
Your generosity enables us to advance research.
You bring hope to all cancer patients.
We THANK YOU for all this and wish you a nice time with friends and family. We look forward to seeing you in 2022, in a new year that we hope will be full of joy, laughter and happiness.
If you can, we invite you to make these holidays a moment of solidarity.
Help us support the "Chasing the clouds" project by making a donation before December 31st.
Every donation means hope for all cancer patients.
HAPPY NEW YEAR!
The team of the Fournier-Majoie Foundation: Jérôme, Frédéric, Mathilde and Serge